My 7-year-old child still places the shoulder belt portion of the seat belt behind their back. Is this safe for my child?
Children who routinely place the belt behind their back do so because the shoulder belt portion of the seat belt cuts crosses their neck.  The safest option for the child is to use a belt-positioning booster seat.   This will allow the seat belt to fit correctly across the chest and low over the hips. The best practice and the safest is to keep children in a booster seat until they are at least 4 feet 9 inches tall and who weigh between 80 and 100 pounds.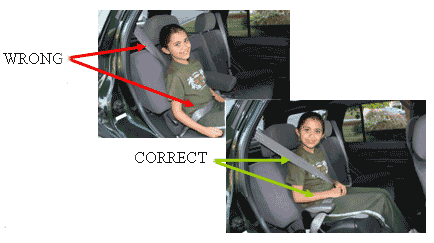 My friends tell me as soon as my baby turns one year old to put them forward facing because it will be easier to put them in the seat.  What is recommended?
The American Academy of Pediatrics recommends keeping infants rear facing to the maximum height and weight of the seat.   NEVER place an infant forward facing before they are at least one year of age and 20 pounds.  Consider purchasing a convertible car seat that has a maximum rear-facing weight of 35 pounds.   An infant placed forward facing too early faces the risk of head, back or neck injuries when involved in a car crash.    Infant Safety Fact Sheet
Am I able to use LATCH and the seat belt to install my car seat?
Child safety seat manufacturers recommend using either system but not both.  When installing the seat, be sure to read both your vehicle and car seat owner's manual to be sure you are using the seat correctly. If using LATCH, only attach the lower anchors where the anchors permit you to do so. Do not use LATCH if your vehicle is not equipped with the lower anchors (manufactured starting 2002) or if the location you want to install the car seat does not have LATCH anchors. For example, placing the seat in the middle seating position and using LATCH anchors from the driver's side and passenger's side anchor locations.