Drive-Up Testing
We partner with Viral Solutions to provide testing.

 

Testing is 

by appointment only.

 

 

A parent or guardian must accompany their minor to get tested. 

 

You may experience a long wait time due to the current high demand.

 
DRIVE-UP TESTING LOCATION

Indian Creek MARTA Station
3901 Durham Park Rd
Stone Mountain, GA 30083



This is the relocated site for the

Brookhaven MARTA location.
Opening Date Coming Soon

Monday:
Tuesday: .

Wednesday:

Thursday:

Friday:

Saturday:
Sunday:

TestAndGoTM Self-Service Kiosk
There is no out-of-pocket cost for the tests provided through a DPH kiosk, but for those individuals with insurance, their insurance will be billed for the test. In many cases, individuals will receive notification of their test results by email or text within 48 hours of specimen collection.
Anyone 15 years old or younger must be accompanied by a legal parent or guardian.
After completing a brief registration form (or scanning your pre-registration QR code), the kiosk will dispense a test kit that includes a nasal swab, like other at-home tests, and instructions on collecting the specimen. Once the specimen is collected, it is safely packaged back into the kitand placed in the kiosk. The specimens are picked up daily and sent to an accredited lab for PCR testing.
Test And Go KIOSK LOCATION

T.O. Vinson Health Center
located on the left side of the building
440 Winn Way

Decatur, GA 30030

24 hours a day / 7 days a week

LTS Kiosk Hotline
(800) 402-0000
For Video Tutorial in Spanish, click here.

Free COVID-19 Test Kit Pickup Locations in DeKalb County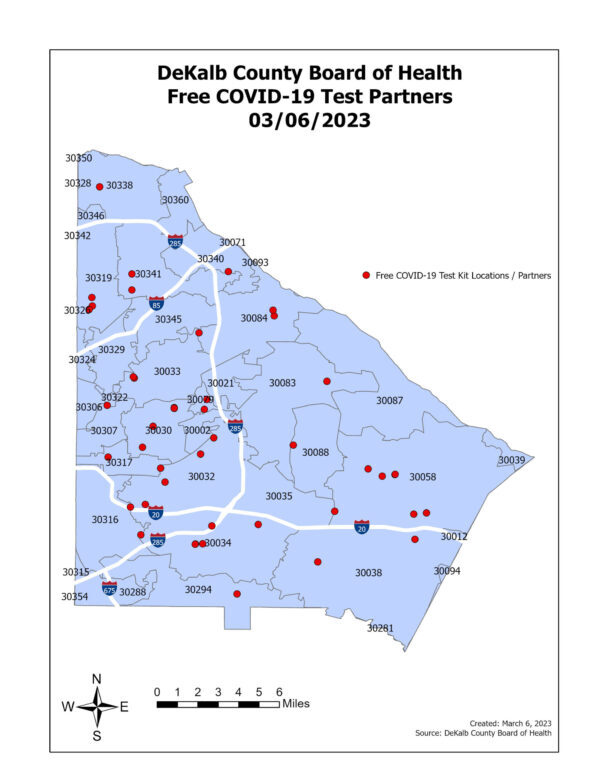 ---